What happened to the City? Why did all robots stop moving? Did anyone survive except him? Little rusty Canny has to do all he can to find answers to these questions… and try to fix it all.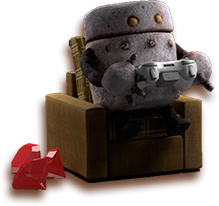 Experience true 3D platformer gameplay inspired by genre masterpieces like Donkey Kong, Spyro the Dragon and Crash Bandicoot.
Enjoy beautiful award-winning graphics in an adorable post-robocalyptic world with 6 unique locations filled with mysteries and adventures.
Try out diverse gameplay mechanics, including tricky puzzles and refreshing minigames.
Challenge mighty bosses and find the right strategy to beat all of them!
Discover a truly moving story, narrated by Bobby Beato, that will take you deep inside the conflict between nature and technology.
Dive into the atmosphere of an abandoned world with fascinating music by three composers.
Find all hidden collectables to learn more about the world and unlock extra content.